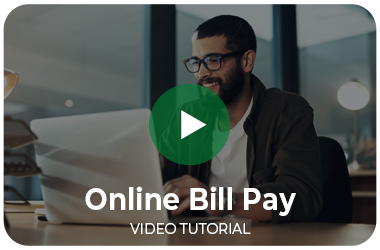 To learn more simply click the tutorial to view our Bill Pay video.
Bill Pay & Popmoney
Bill Pay
Please contact a Personal Banker for a complete disclosure of the terms and conditions.
Reclaim your precious time; skip the hassle of buying stamps, and save money, too. Our bill payment services are fast, simple and convenient!
With Bill Pay, you can schedule one-time or automatic recurring payments for rent, cable, utilities, and more. To get started, all you need to do is sign into your account and enroll in CheckFree® Bill Pay.
Once enrolled you'll be able to:
Pay Virtually Anyone. From the local bakery to a Fortune 500 Company, even your babysitter.
Same Day/Next Day Payments. Payments can often be received in as little as one business day, even that same afternoon if necessary.*
Group Payments into Categories. Organize your utilities, cable and phone into a folder named household.
Receive eBills. Green, more convenient, more secure and easier to manage.
Reminders. Receive updates through email when you receive a bill, or when it's due.
Automatic Payments. Great for bills that stay the same each month, such as your rent and your car loan.
Search Bill History. Search by company, date and status, the moment you need an answer, wherever you are.
Message Center. Get quick answers to questions you might have.
Completely safe. More secure than mailing paper checks.
*Fees for expedited services will apply.
To learn more simply click the tutorial to view our Popmoney® video.
Popmoney®*
Popmoney®* is an innovative personal payment service that eliminates the hassles of checks and cash. Now, sending and receiving money is as easy as emailing and texting**. The Popmoney® personal payment service lets you send money to friends, family and almost anyone. All you need is their name and email address or mobile telephone number to move money from your bank account to theirs.
How It Works
Popmoney® allows you to send and receive money through Online Banking. You can send money to your contacts, who will be notified by email or text message. You and your contacts will never need to exchange financial account information.
Popmoney® is easy and convenient for you and the people you send money to. Users can simply receive money in their eligible bank account online (if it's a member of the Popmoney® network), or at Popmoney.com, saving them a trip to the bank.

Use Popmoney® to:
Send a gift to family and friends
Pay friends back for a fun outing
Pay your babysitter or lawn care service
Pay rent to your landlord or roommates
*Popmoney® personal payments services offered at www.popmoney.com are provided by CheckFreePay Corporation, a licensed money transmitter, and CheckFreePay Corporation of New York, which is licensed as a Money Transmitter for payment services by the New York State Department of Financial Services.
**Message and data rates may apply. Consult your cell phone service provider for details.